CATEGORY
GLEAMviz 7.2 released
May 2, 2022
We are happy to announce the new release of the GLEAMviz Simulator, which features a complete redesign of the graphical engine components used in the Visualization Dashboard. Version 7.2 switches from OpenGL -deprecated on Mac OSX- to the Vulkan API, and the rewriting of the graphics components brings together higher performances and application stability.
The Analyzer widget has been improved with the addition of some useful features: it is now possible to zoom on specific graph areas and visualize the time series both in linear and logarithmic scale. Also, the geographical unit selector now features a text search box to facilitate the selection of specific cities worldwide with a friendlier approach.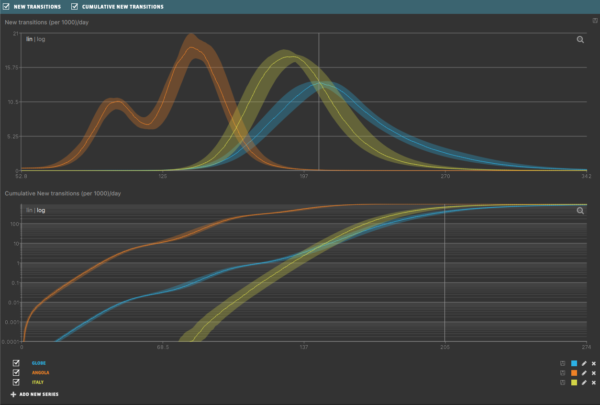 Multiple other minor optimizations have been performed in terms of data management and network communication.
Enjoy the GLEAMviz Simulator Client version 7.2 by downloading it here or by using the built-in upgrade system in previous versions.
CATEGORY
EpiPop simulator
March 8, 2022
We are happy to announce the release of a Web simulator tool aimed at performing realistic simulations of the spreading of infectious diseases in meta-population networks. The platform is publicly available to use for researchers and students in the field of epidemiology.
By using an intuitive GUI it's possible to design a compartmental model, just like in the GLEAMviz model builder interface, and a simple meta-population network, specifying the mobility fluxes connecting the network nodes. The simulations' output can be visualized through dynamic plot charts, similar to GLEAMviz Analyzer widget, representing the time evolution of the number of new and cumulative transitions to the selected compartments.If you're interested you can find the EpiPop platform and additional information here: https://epi-pop.org‍
Enjoy!
CATEGORY
Announcing GLEAMviz 7.1
March 9, 2021
We have just released an updated version of the GLEAMviz Simulator! The new client release features a major update of the core libraries and various architectural improvements. This brings more stability, fixes some bugs of the former version, and allows the client to run on the latest versions of the three supported operating systems (Windows, Mac OSX and Linux).
The computational engine has been improved and optimised, increasing the accuracy of the simulation results.